A new hospital with the latest diagnostic devices and therapeutic equipment
The new hospital, which was established by the merger of the Cardiovascular Center Hokkaido Ohno Hospital and Sapporo Daiichi Hospital, has 276 beds and is an advanced acute-care hospital that mainly treats patients with cancer, cerebrovascular diseases, heart diseases and motor system diseases The hospital also provides advanced health checkup service to contribute to preventive healthcare.
Basic information
Name
Sapporo Kojinkai Memorial Hospital
Address
Miyanosawa 2-jo 1-chome 16-1, Nishi-ku, Sapporo
Site area
12,117.93㎡
Building outline
Total building area
26,659.82㎡
Structure
reinforced concrete + steel construction
Number of stories
seven stories above ground
Number of beds
276 (general ward, ICU, SCU)
Operating rooms
8 (MR during operation, hybrid room, da Vinci XiI, O-arm)
Clinical departments
neurosurgery, cardiovascular surgery, cardiovascular medicine, digestive surgery, orthopedics, spine surgery, respiratory medicine, gastrointestinal medicine, endocrinology and metabolism, surgery, internal medicine, gynecology, urology, nephrology, neurology, otorhinolaryngology, head and neck surgery, breast surgery, tumor hematology, anesthesiology, therapeutic radiology, radiodiagnosis, clinical pathology, rehabilitation
Capabilities sought by our hospital
1. Advanced acute medical care mainly for three major diseases (cancer, stroke, heart disease) and motor system diseases


Multimodal cancer treatment (surgery, chemotherapy, immunotherapy, radiotherapy)
Cutting-edge treatment for acute stroke, cerebrovascular disease and brain tumors
The latest treatments for cardiovascular disease through cooperation between cardiovascular medicine and cardiovascular surgery

2. 24-hour emergency medical system
3. Advanced health checkup service mainly for three major diseases
The number of beds is 276 (general ward, ICU, SCU). Eight operating rooms are equipped with advanced medical instruments (e.g., MRI during operation, O-arm, hybrid room, da Vinci Xi). Using robot technology, the latest rehabilitation is performed. Advanced health checkup services are also provided, including complete medical checkups, brain medical checkups, heart medical checkups and cancer medical checkups using PET-CT.
Treatments sought by our hospital
1. Non-surgical treatment
We offer cutting-edge radiotherapies using CyberKnife, the first device of its kind in Hokkaido, TomoTherapy, the first device of its kind in Sapporo, and proton therapy (scheduled to start in the summer of 2018). Also available are non-surgical ultrasonic treatments focusing surgical instrument (ExAblate), TAVl (transcatheter aortic valve implantation) and endovascular treatment (brain, heart, macrovascular treatment, fibroid (UAE)).
2. Treatment by minimally invasive operation
We provide treatment by minimally invasive heart surgery, minimally invasive brain surgery (a keyhole surgery that was developed by Professor Takanori Fukushima, who is blessed with miraculous manual dexterity), minimally invasive surgery using da Vinci Xi, a next-generation, cutting-edge system (heart, digestive cancer, prostatic cancer, uterine cancer), single-port laparoscopic surgery (digestive cancer) and other surgeries.
3. New immunotherapy
We aim at a system to provide the latest immunotherapies to boost patients' immune function.

Advanced medical care through these treatments is provided here. In collaboration with Sapporo Medical University, Hokkaido University and Asahikawa Medical University, we have established a medical care system that supports medical specialists and we aim to be a central facility that accepts junior residents.

Regarding outpatient services, Sapporo Nishi Kojinkai Clinic, which is also located in the Miyanosawa area, assumes some of our hospital's outpatient functions. We accept emergency patients 24 hours a day. Through our seamless emergency medical system, we respond to local needs and strive to build trust. Sapporo Kojinkai Memorial Hospital has introduced the latest medical instruments in the Sapporo area to provide advanced medical care and preventive healthcare.
Our hospital's highly advanced medical equipment
To fulfill our mission as an advanced acute hospital, we provide cutting-edge, high-quality medical care using the latest medical instruments.
Let us introduce some of our distinctive, cutting-edge medical instruments.
CyberKnife – a stereotactic radiotherapy system (Sapporo High Functioning Radiotherapy Center)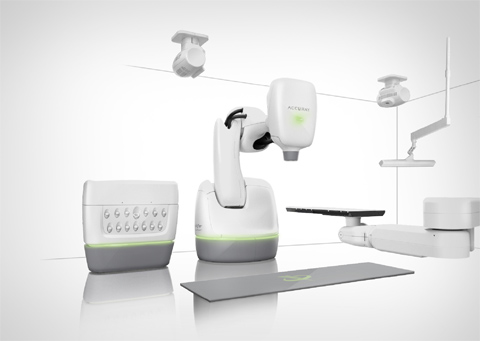 CyberKnife is a stereotactic radiotherapy system with a high-precision robot arm. Our hospital has introduced the latest model, the CyberKnife M6 System (Accuray). It is the third of its kind in Japan. Our hospital is the 32nd facility in Japan to have introduced CyberKnife and the first in Hokkaido. Using a robot arm of the kind used in precision industries, CyberKnife performs pinpoint irradiation of the target lesion from different directions. This makes it possible to minimize radiation exposure of normal tissue and give high-dose radiation only to the target lesion.
TomoTherapy – intensity-modulated radiotherapy (Sapporo High Functioning Radiotherapy Center)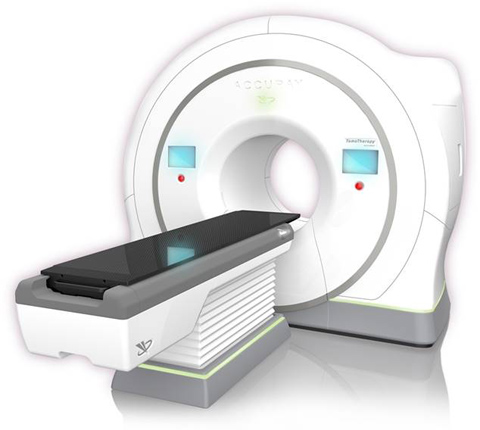 TomoTherapy is an image-guided intensity-modulated radiotherapy system (IGRT-IMRT). Our hospital has installed the Accuray TomoHD System, the top-of-the line model in the TomoTherapy series. It is the 13th of its kind in Japan. Our hospital is the 50th facility in Japan to have introduced TomoTherapy and the second in Hokkaido. Immediately before each irradiation, an image is taken by a built-in CT scanner to deliver radiation based on the image (image-guided radiotherapy: CT-IGRT). Intensity-modulated radiotherapy (IMRY) is technology to deliver different doses of X-rays to different targets from a single irradiation point. This makes it possible to lower the dose to normal tissue while concentrating a higher dose of X-rays on the cancer lesion. TomoTherapy is by far the best at delivering different doses to different targets at a very high speed. It creates a far more accurate, beautiful distribution chart of radiation than conventional 2D, 3D or other IMRT or other IGRT-IMRT therapeutic system.
Da Vinci Xi – patient- and doctor-friendly operation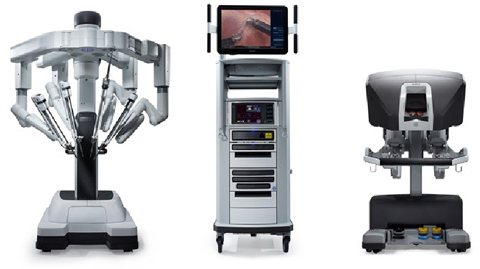 Da Vinci is a robot that assists in endoscopic surgery. Such surgery is a minimally invasive operative procedure that makes surgical wounds smaller than in conventional open abdominal/heart surgery. However, it requires highly skilled doctors, because the operator's vision is restricted and the instruments are difficult to manipulate. In an operation using da Vinci, an endoscope and arms are inserted into a surgical wound, and the operator remotely manipulates the system while viewing the progress on a monitor. The handling skill is relatively easy to acquire, and the system performs movements that are difficult for humans. Da Vinci expands the boundaries of endoscopic surgery, enabling operation that is friendly to patients and doctors alike.
Our hospital has introduced da Vinci Xi, the latest model, which is of the fourth generation.
IVR-CT

64-slice PET-CT

Hybrid operating room
Proton therapy system – the world's most advanced medical instrument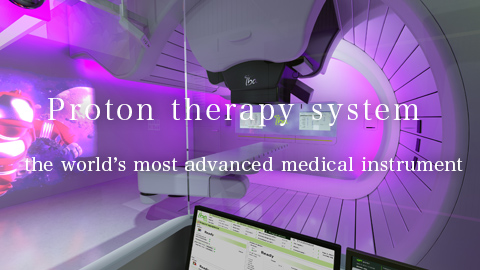 This proton therapy system is one of the world's most advanced therapeutic instruments. It uses particle beams. Our hospital plans to introduce ProteusOne, the latest system of IBA, the Belgian company that is the leader in proton therapy systems. As of 2018, our hospital will be the 15th facility in Japan to use a proton therapy system and the second facility to introduce ProteusOne. Proton therapy makes it possible to efficiently deliver a high dose of radiation only to the lesion, enabling efficient therapy while minimizing the effect on the surrounding normal tissue.
Our hospital will be the only facility in Japan with CyberKnife, TomoTherapy and a proton therapy system.
Access
Sapporo Kojinkai Memorial Hospital

Miyanosawa 2-jo 1-chome 16-1, Nishi-ku, Sapporo, 063-0052
Tel: 011-665-0020
By subway
Get off at Miyanosawa Subway Station (directly connected to Chieria), and then walk for approximately 6 minutes.
By bus
Take an Otaru-bound bus from JR Sapporo Ekimae Bus Terminal, get off at the Nishimachi Kita 20-chome bus stop, and then walk for 3 minutes.
By car
Approximately 25 minutes from JR Sapporo Station via Prefectural Road 124
Approximately 60 minutes from New Chitose Airport via the Sasson Expressway (Get off at the Shinkawa IC and drive another 10 minutes.)